Overview:
The Wexer Simulated Live feature enables you to upload native, pre-recorded, content directly to your Web Player site.
As you get started with your Simulated Live feature be sure you prepare a plan that covers:
Production strategy: who is a contributor, how often are they expected to produce, where and with what equipment? (see Wexer Connect Content Guide download for more detail below)


Music rights: know exactly what you are licensed for...

when in doubt, leave it out!

see GUIDELINES FOR USING MUSIC IN WORKOUTS

Theme: are you going to focus on the trainers as the stars, or create plans that are easy to follow using the descriptions

Review: who is in charge of the final edit and review of the content that will be released on the platform. How long will it stay up?
How to:
You will already have a Partner Portal set up for you allowing this feature to be accessed https://partner.wexer.com/

If you do not already have your login details your Customer Sucess Manager will be able to pass them on to you

Log in to your own account where you will see the home page, then click Content titles, then top right the Upload button. This will bring you to your own computer drive to select the videos you want to upload - image below
Once you have uploaded your video, entered the necessary metadata and your cover image, and press Save. When you're ready to have that video on your platform press Publish and your class will be instantly available to your users.
Min. Recording Requirements:
Content for Wexer Simulated Live should be filmed in landscape mode and 1080p video settings for optimal presentation.
If recording on a cell/smartphone, the Andriod model should be developed from 2010 or later.
If recording on a cell/smartphone, the iPhone model should be iPhone 6 or later.
If recording on a production-quality camera 1080p will be covered, ensure landscape mode.
Please download our Simulated Live Content Guide and reach out to your Customer Sucess Manager or contact us at http://ticket.wexer.com/ for more details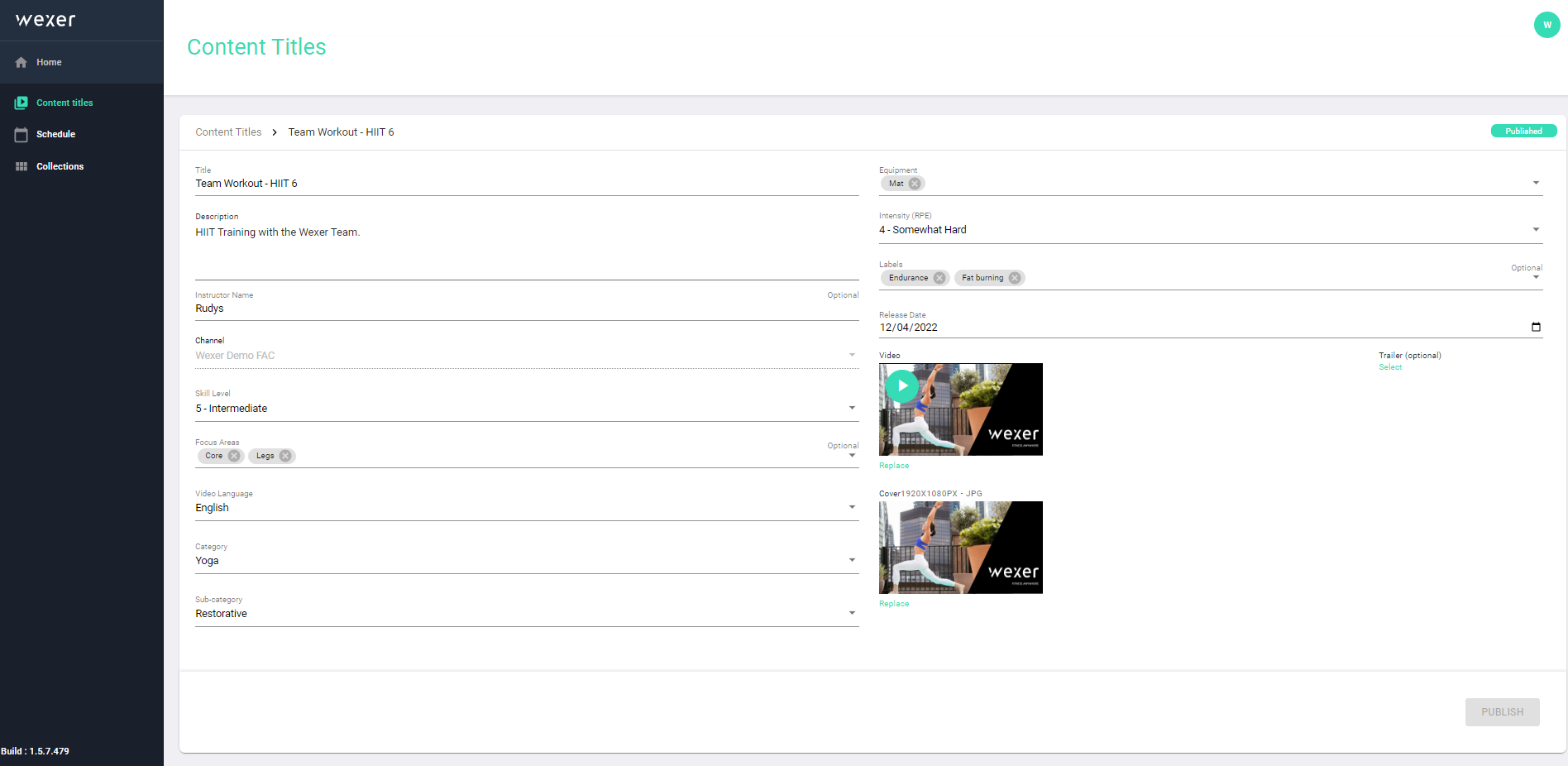 Video Tutorials and best practices are available on the
Inspiration page of this Success Hub
Downloads: